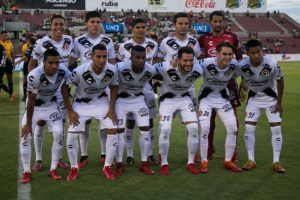 FC JUÁREZ 0-0 CLUB TIJUANA (MARCADOR FINAL)
Jornada 1 COPA MX-Apertura 2018
Ciudad Juárez, Chihuahua, 25 de julio de 2018._  El Club Tijuana igualó
sin anotaciones ante el FC Juárez en su debut en la COPA MX-Apertura
2018, disputado esta noche en la cancha del Estadio Olímpico Benito
Juárez.
En el encuentro, 6 jugadores Rojinegros realizaron su debut. Antonio
Nava (18 años), Edson Alvarado (20 años), Brian García (20 años), Luis
Martínez (19 años), Luis Gamíz (18 años) y Alejandro Díaz (18
años),tuvieron acción por primera ocasión en el certamen, al igual que
Gustavo Canto, quien se integró al plantel para este Apertura 2018.
Los Xoloitzcuintles se trasladarán a la Ciudad de Tijuana para preparar
su próximo compromiso, en el que visitarán a Tigres de la UANL en el
duelo de la Jornada 2 de la LIGA MX-Apertura 2018 (29 de julio, 20:00
hrs Centro).
ALINEACIONES:
FC JUÁREZ: 31 Edmundo Vázquez (P),  9 Leandro Carrijo (C), 3 Luis
López, 16 José Rodríguez, 17 Magno Aparecido, 27 Christian Pérez, 6
Kevin Gutiérrez, 20 Manuel Viniegra (72' Francisco Nevares), 21 Irving
Ávalos (59' Jhonatan Aranda), 12 Josué Gómez, 18 Ramón Navarro  (73'
Jesús Delgado) DT Gabriel Caballero
Club Tijuana: 29 Luis Michel (P), 23 Miller Bolaños (C), 21 Gustavo
Canto, 30 Hiram Muñoz. 35 Luis Martínez, 20 Jesús Angulo, 32 Edson
Alvarado (45' Luis Gamíz), 33 Brian García (79' Alejandro Díaz), 7 Diego
González, 31 Antonio Nava, 19 Erick Torres (65' Daniel López) DT Diego
Cocca
Amonestados: Kevin Gutiérrez (76'), José Rodríguez (86'), Diego
González (90'+2')
————————–
CLUB TIJUANA TIES IN COPA MX OPENER ON THE ROAD
Xoloitzcuintles 0-0 Bravos, Copa MX Group 2 Week 1
CIUDAD JUAREZ (July 25, 2018) –Club Tijuana Xoloitzcuintles began the
2018 Apertura Copa MX with a scoreless tie against host FC Juarez
Wednesday at Estadio Universitario Benito Juarez.
Xoloitzcuintles goalkeeper Luis Michel made a handful of key saves
while a group of young players made their pro debuts in the Week 1
match. Club Tijuana earns a point in the Group 2 standings with the tie.
And it was thanks to Michel, the veteran goalkeeper, that the match
remained scoreless early on. The 39-year-old blocked a shot with his
left hand, sending it off the post. Then he made two more saves that
sent him jumping to corral low shots.
Michel guided and instructed the young players on the pitch as many
made their professional debut. Club Tijuana manager Diego Cocca used
players coming out of the youth system. Antonio Nava, 18, Edson
Alvarado, 20 and Brian Garcia, 20 made their pro debuts as starters.
Luis Martinez, 19, Luis Gamiz, 18 and Alejandro Diaz, 18, came on as
second half subs.
The youth players were factors in some dangerous attacks by the
Xoloitzcuintles. Daniel Lopez, 18, nearly scored in the 90th minute. He
took a rolling pass from Miller Bolaños on a counter attack. But Lopez
fired his shot high and wide. Shots were off target but the defense held
steady.
Defender Gustavo Canto, who signed this offseason, was part of the back
line, He also made his debut with Club Tijuana as a starter.
Michel was the starter playing in all five preseason games after Gibran
Lajud suffered a hand injury during training camp in Mazatlan.
The Xoloitzcuintles will now travel to Monterrey to face Tigres UANL in
LIGA MX Week 2 action Sunday July 29 (4 p.m. Pacific) at Estadio
Universitario.
FINAL SCORE
BRAVOS , XOLOS 0
LINEUPS:
CLUB TIJUANA: 29. Luis Michel, 21. Gustavo Canto, 30. Hiram Muñoz, 35.
Luis Martinez, 7. Diego Gonzalez, 20. Jesus Angulo, 31. Antonio Nava,
32. Edson Alvarado, 33. Brian Garcia, 19. Erick Torres, 23. Miller
Bolaños. Coach: Diego Cocca.
BRAVOS: 31. Edmundo Vazquez, 3. Luis Lopez, 16. Jose Rodriguez, 17,
Magno De Andrade, 27. Christian Perez, 6. Kevin Gutierrez, 20. Manuel
Viniegra, 21. Irving Avalos, 9. Leandro Carrijo, 12, Josue Gomez, 18,
Ramon Navarro. Coach: Gabriel Caballero.