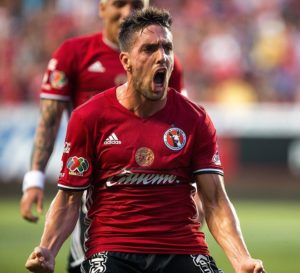 CLUB TIJUANA BEATS CHIVAS 4-0 IN WEEK 4 MATCH
Xoloitzcuintles earn second home shutout of 2016 Apertura
TIJUANA –(July 29, 2016) –Club Tijuana Xoloitzcuintles beat visiting Club Deportivo Guadalajara 4-0 Friday night in a Week 3 match of the LIGA MX 2016 Apertura at Estadio Caliente.
Dayro Moreno scored twice (18th and 28th minute), Gabriel Hauche (40th) and Milton Caraglio scored for the Xoloitzcuintles in an explosive match for coach Miguel Herrera's team.
The Xoloitzcuintles earn three more points in the 2016 Apertura standings. Coach Miguel Herrera's team is now 2-1-0 with 6 points. It is the second time it beats Chivas 4-0 at home against one of Mexico's more popular teams that draws packs of fans everywhere. Those fans and the Xoloitzcuintles favorite where treated to a Club Tijuana fluid brand of soccer that led to the second-straight win at home and second shutout by goalkeeper Federico Vilar in Tijuana this season.
Herrera's team began the flurry of goals when Moreno opened up the scoring early on. Moreno tapped in a low rolling cross from Aviles Hurtado from left to right. Guadalajara goalkeeper Rodolfo Cota could only watch it roll into the back of the net. Moreno added his second when he sent in a pass from Gabriel Hauche. It was a give-and-go play by Moreno, Hauche and Hurtado. Moreno now has 39 career goals with Club Tijuana.
Hauche got a goal of his own when he sprinted into the Chivas penalty area from the right side and fired across the box. It was Hurtado once again, setting up the play. Hauche has scored in back-to-back games. The Argentine striker scored against Club Puebla last week.
Caraglio scored his first goal as a Xoloitzcuintle when he converted a penalty kick in the 71st minute. Chivas was whistled for a foul when Hauche was taken down just inside the penalty box a minute earlier.
Earlier in the match, Club Tijuana showed to also be aggressive on defense, with recovering balls quickly after losing them at midfield. Juan Carlos Valenzuela cleared a ball from the goal line on a Chivas volley in the 31st minute. Vilar stopped a Carlos Salcido shot a minute later to preserve the shutout.
Club Tijuana will now travel to Mexico City to face Cruz Azul, another popular team in the league, in a Week 4 match Aug. 6 at Estadio Azul.
FINAL SCORE:
XOLOS 4, CHIVAS 0
SCORING:
1-0-18th –Dayro Moreno (Tijuana)
2-0-28th- Dayro Moreno (Tijuana)
3-0-40th –Gabriel Hauche (Tijuana)
4-0 -71st –Milton Caraglio (Tijuana-PK)
LINEUPS:
Club Tijuana: 33. Federico Vilar,) 5. Guido Rodriguez, 6. Juan Carlos Valenzuela, 7. Gabriel Hauche, 9. Milton Caraglio (81st, 21. Kevin Gutierrez), 10. Ignacio Malcorra, 16. Michael Orozco (46th – 22. Juan Carlos Nuñez), 17. Dayro Moreno (66th – 20. Paul Arriola), 19. Emanuel Aguilera, 22. Juan Carlos Nuñez, 26. Juan Carlos Medina. Coach: Miguel Herrera.
Guadalajara: 3. Carlos Salcido, 4. Jair Pereira, 6. Edwin Hernandez, 7. Orbelin Pineda, 11. Isaac Brizuela, 14. Angel Zalvidar, 17. Jesus Sanchez, 18. Nestor Calderon, 23. Jose Vazquez, 27. Carlos Peña, 30. Rodolfo Cota.